beatmaker's sketchbook
Beatmaker's sketchbook is an alternative to commercial sample-sequencers with a big difference – it is 100% Open-Source.
It comes as a DIY kit and can be assembled within one afternoon. Minimal maker skills required.
Mission
The goal is to raise awareness for electronics and foster maker skills while creating a stylish groovebox to boost musical creativity.
If something breaks, it is easy to repair due to its modular system, based on mainly Open Source components.
Sounds pretty good – doesn't it?
Beatmaker's sketchbooks firmware – SUCOFUNKey – is continuous evolving, Open-Source and based on the Teensy Audio library.
Read the user manual to get an impression of the complete feature-set.
Sample
Sources for sampling are line-in, the built in microphone, re-sampling and a combination of re-sampling and line-in or microphone.
Samples can be trimmed to variable lengths and set to sample slot. One sample can be sliced into multiple parts and be assigned to multiple slots.
72 sample slots divided into 3 banks with 24 samples each can be used in one project.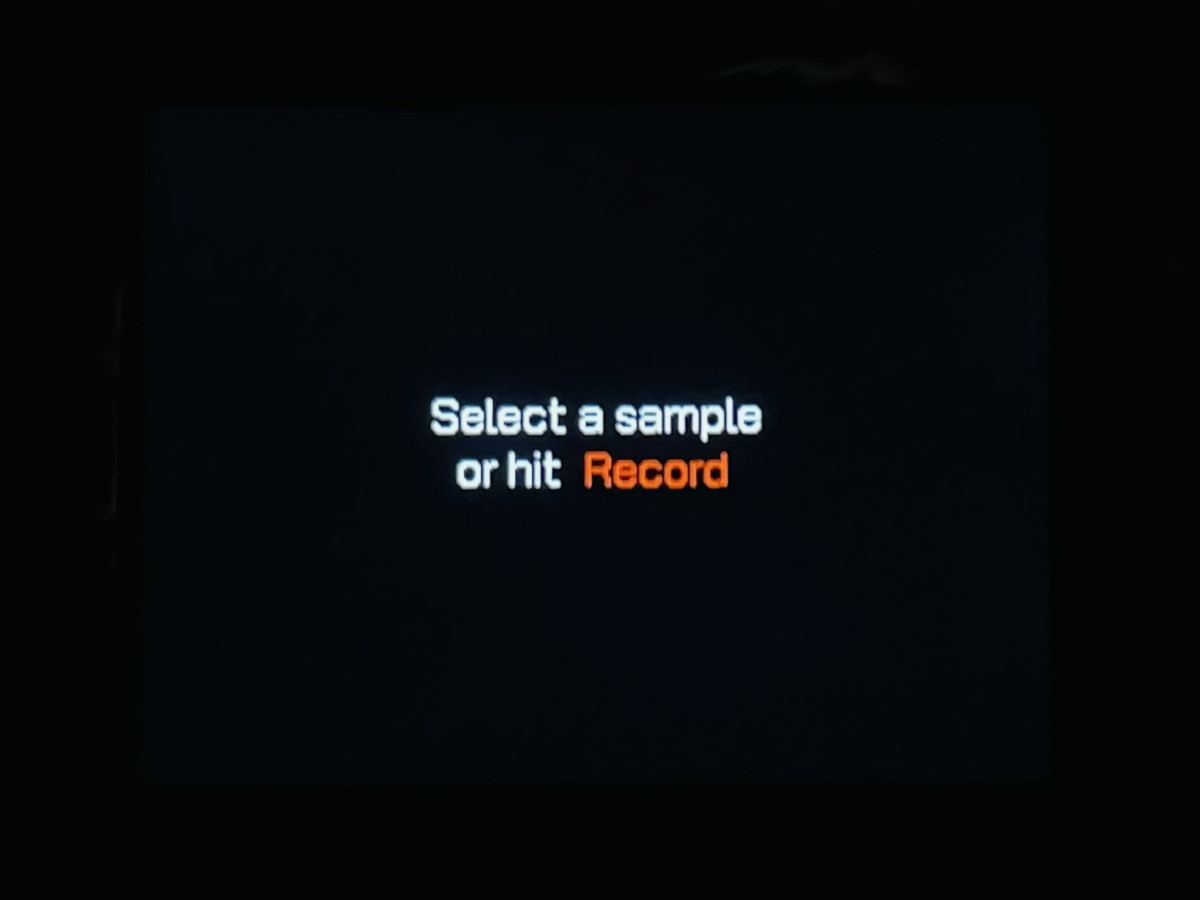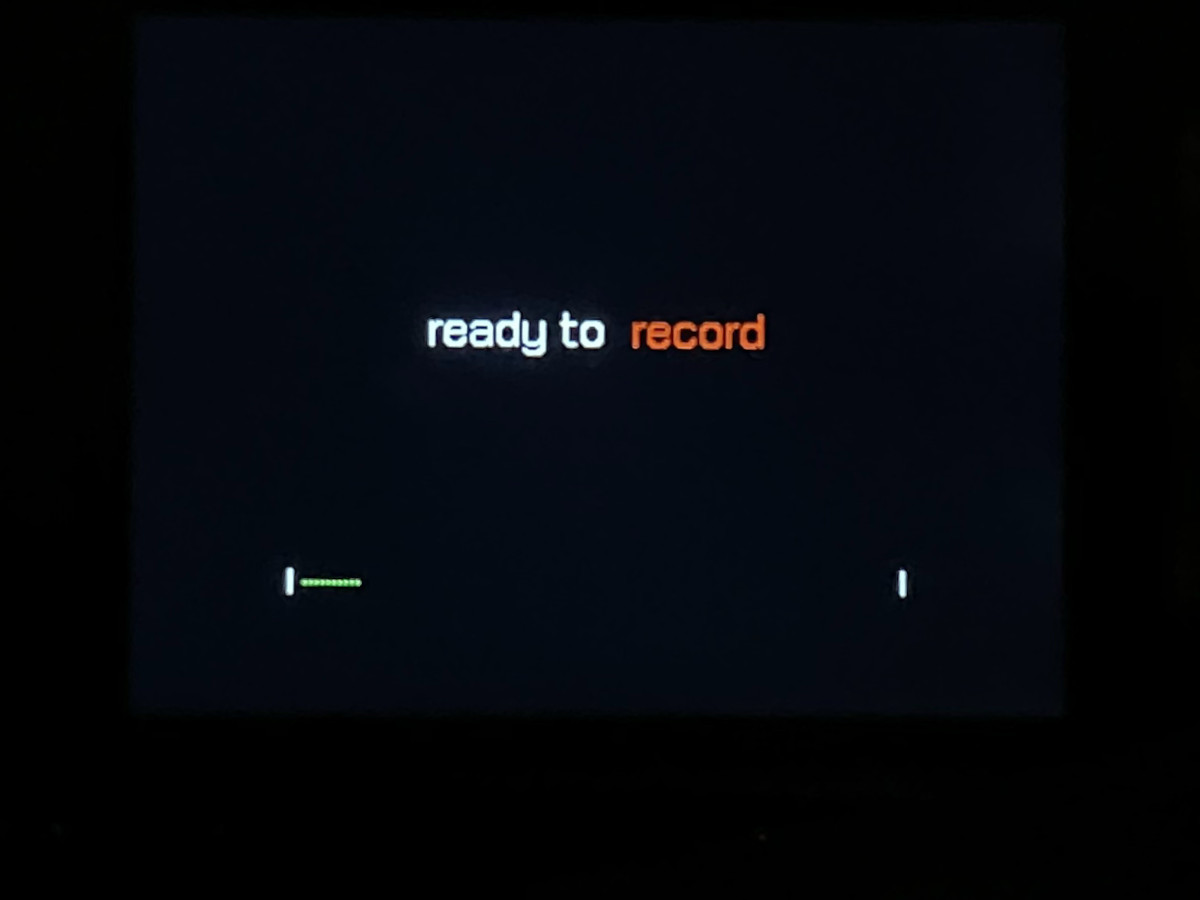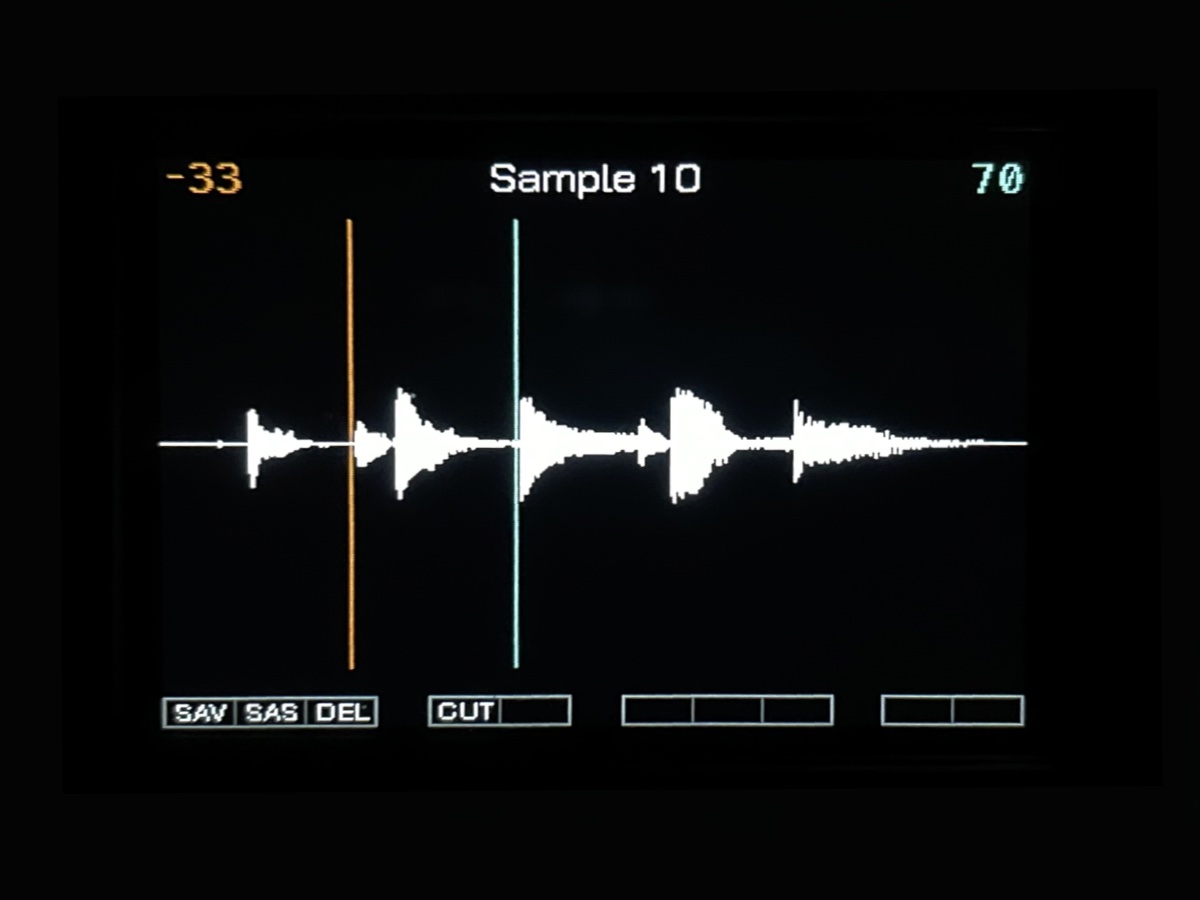 Sketch
The sequencer – called sketchbook – is a matrix with fixed 8 channels and a almost endless width of steps. The sketchbook can be divided into sheets (comparable to patterns), corresponding to different parts of a song.
Every cell of that grid can be filled with a sample, parameter changes (volume, panning, pitch adjustments, playback direction, Note Off) and MIDI messages.
There are different levels to zoom in and out to make fine grained compositions or just sketch some basic 4/4 ideas. Swing can be applied to each sample individual or assigned to one of 8 swing groups. This makes the grid resolution as fine grained as the 192 steps for micro timing on an MPC.
Each sample can be chromatically pitched and defined with a probability to be played.
Parts of the sketchbook can be referenced to so called Snippets to trigger them in the play mode.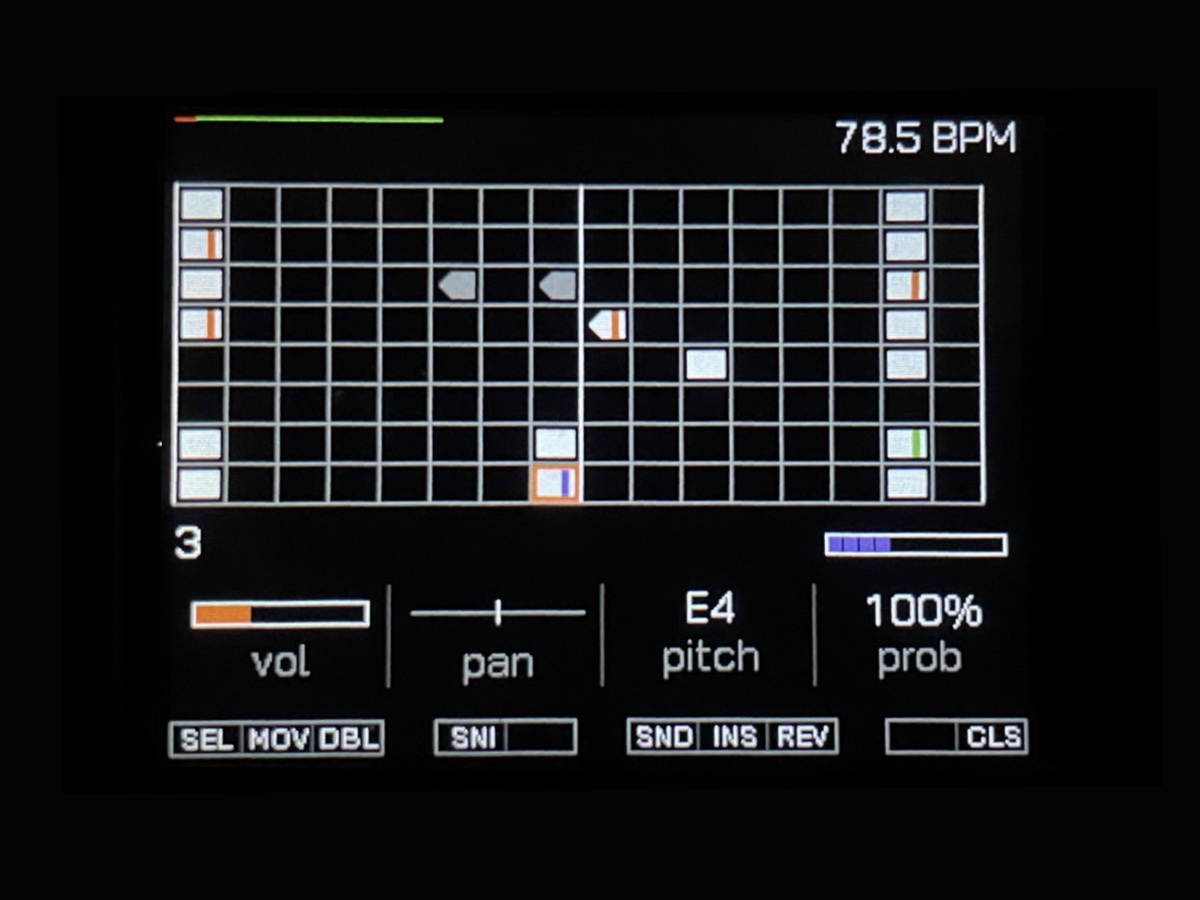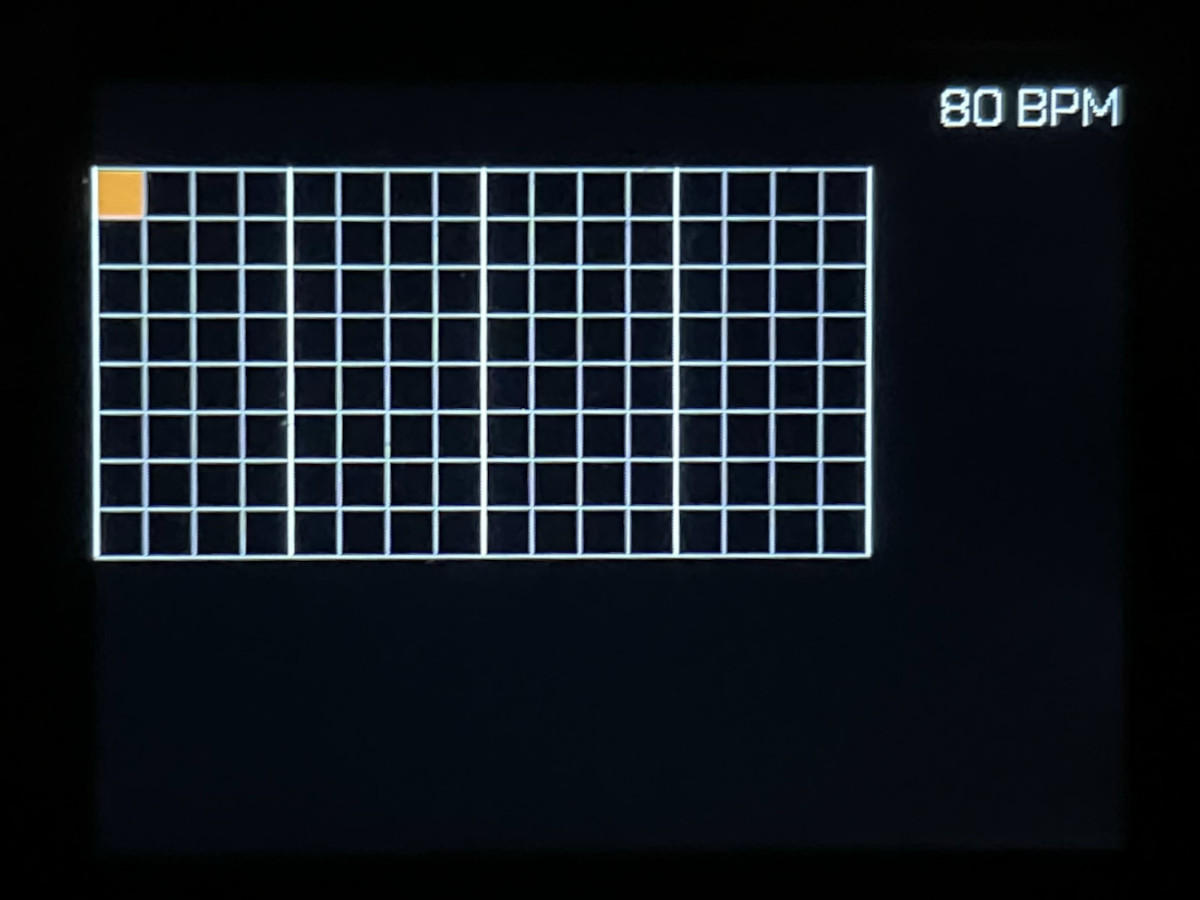 Play
Just plug in a MIDI controller, e.g. for finger drumming, assign the pads to samples and snippets from Beatmaker's sketchbook and you are ready to go for a live performance with polyphonic aftertouch support.
Play your created snippets and drop some samples over it with your external MIDI gear. It is even possible to record all of that and rap some funky lyrics over it.
One sample can be assigned to a keyboard mode. Connect a MIDI keyboard to Beatmaker's sketchbook and play that sample chromatically pitched with up to 8 notes at a time and velocity control.
Playing with the internal keyboard is possible, too. You do not need external MIDI equipment to perform live with Beatmaker's sketchbook.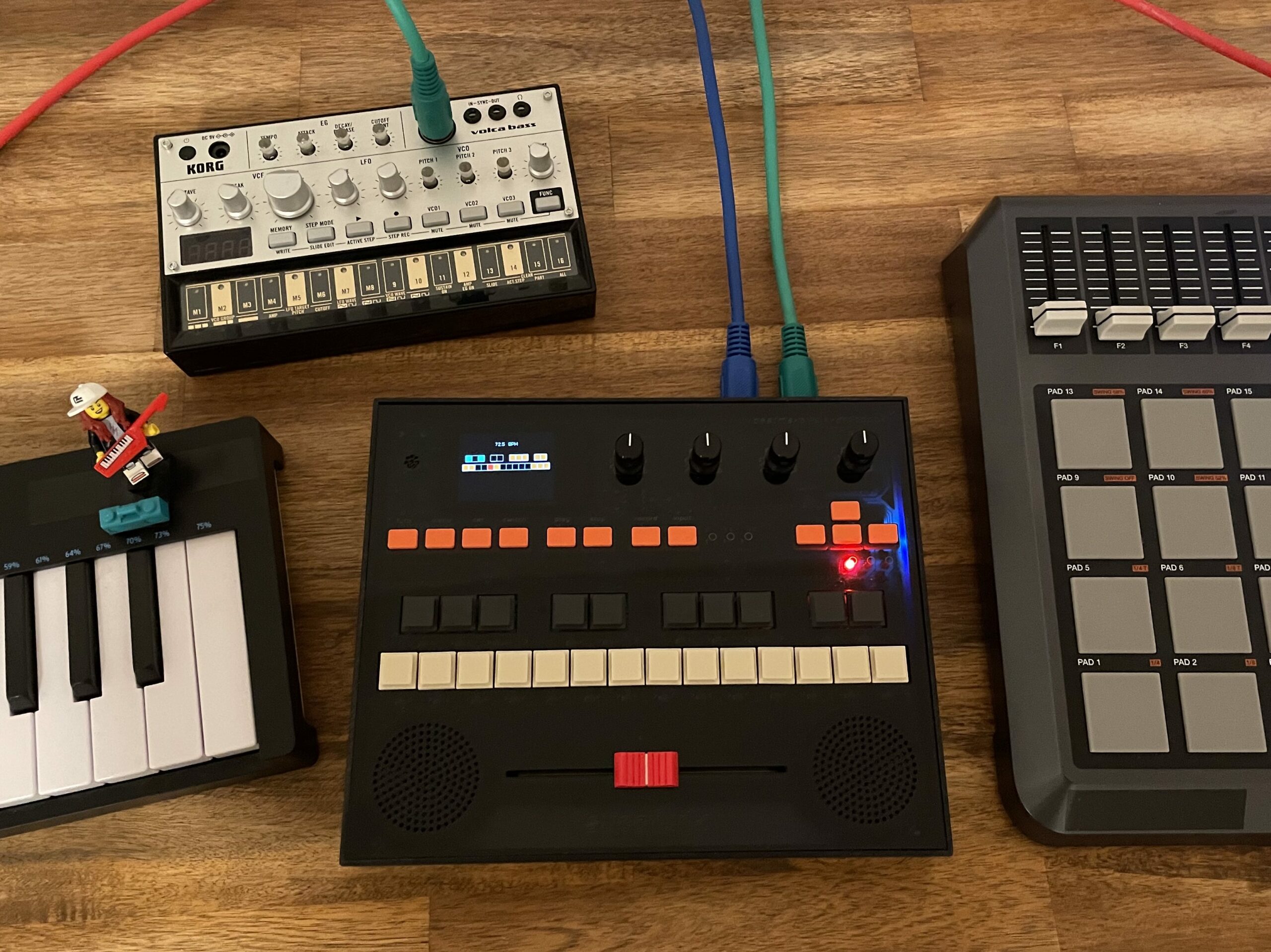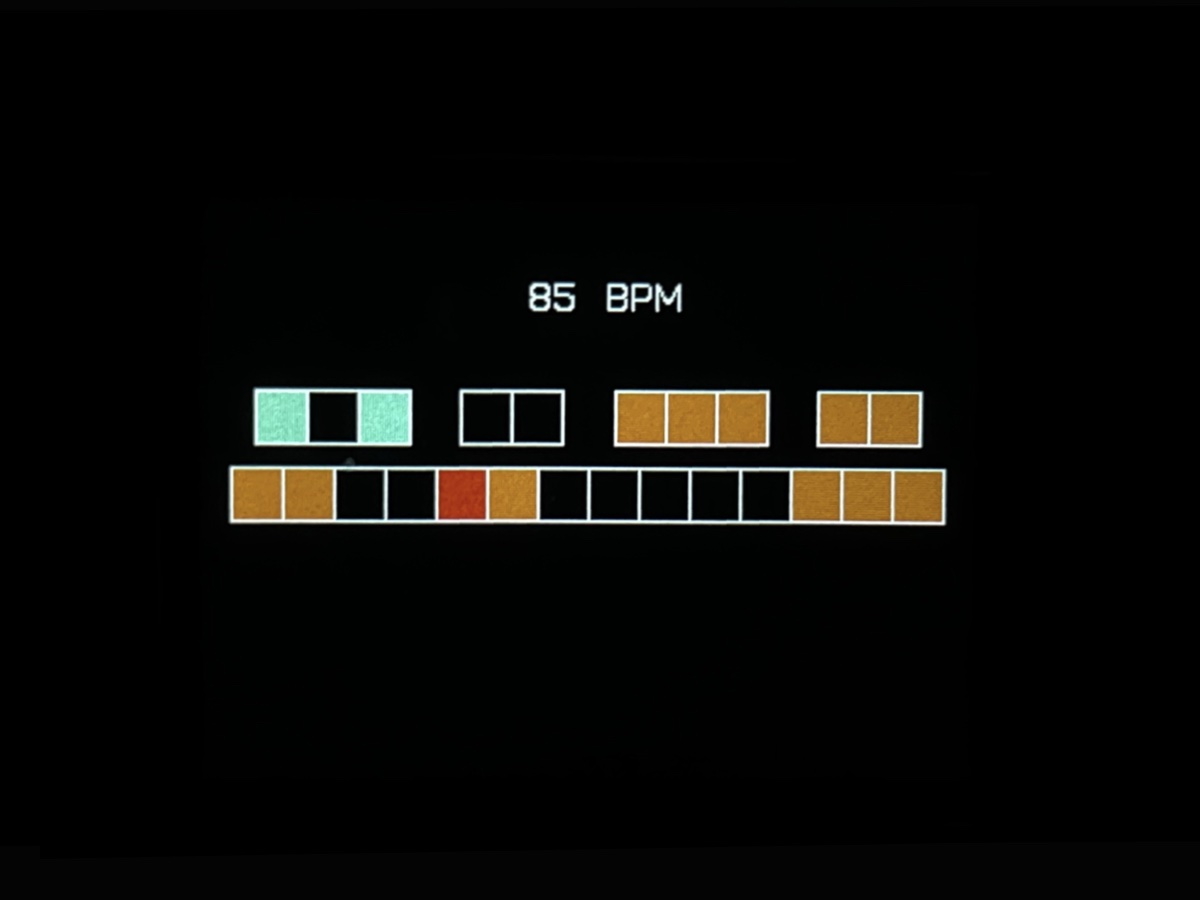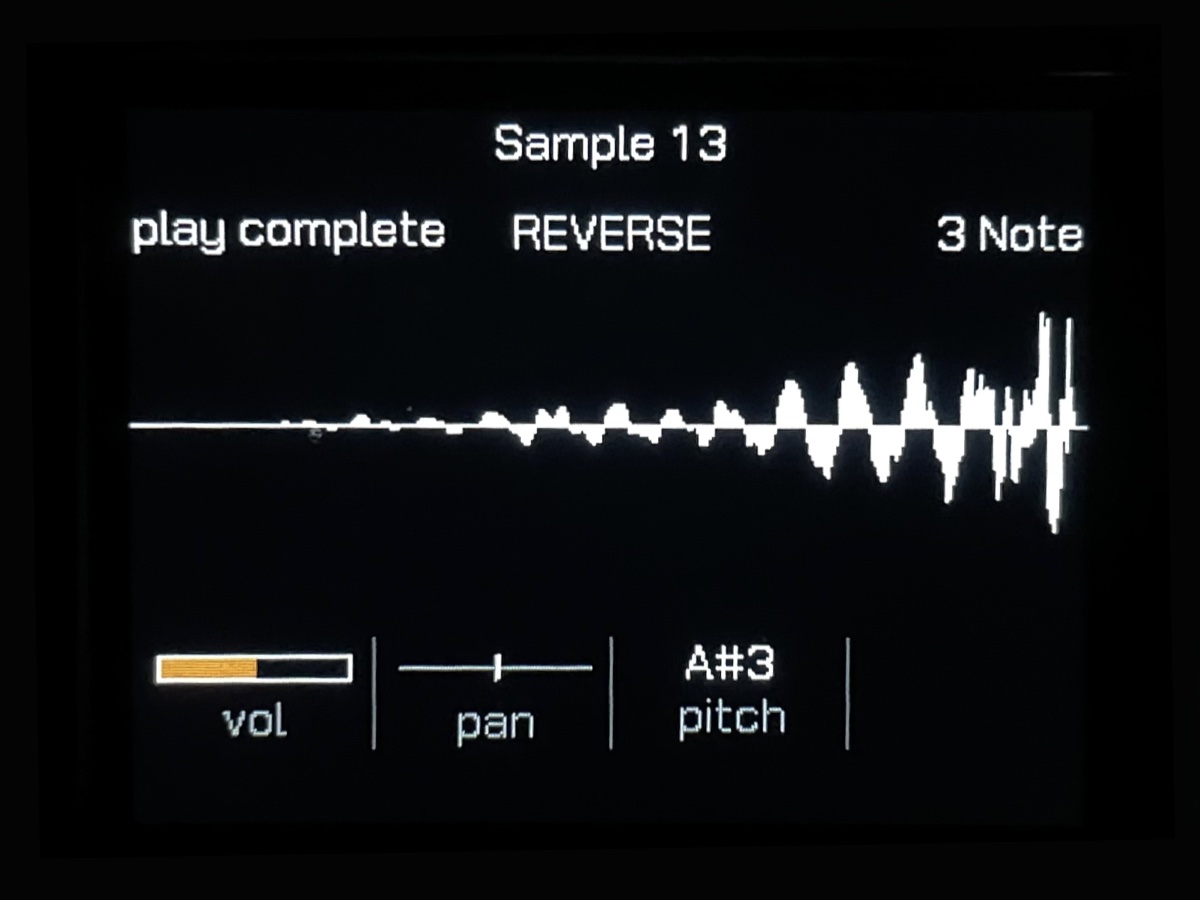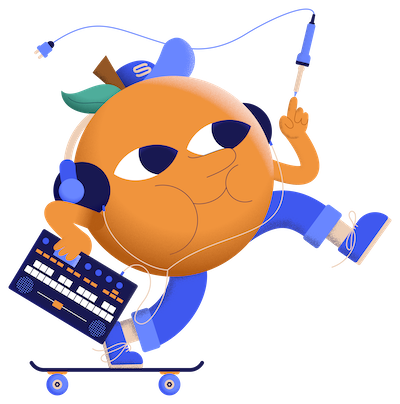 Support Open Source Software!
The firmware is 100% Open Source, continuous evolving and does not bring any money to it's creator. To support the implementation of new features, turn donating into account to keep the project alive and at a fast pace. Check the donate page for more information.
Electronics
Beatmaker's sketchbook houses a microphone, two speakers, a fader, four rotary encoders, 24 keys for two octaves, 12 functional buttons, a display and a via USB rechargeable battery. It can sample through a line-in or the built in microphone, playback via headphones, internal speakers or the line-out connector and communicates with external devices via MIDI.
Its core is a Teensy 4.1 microcontroller with 16 MB additional Sample RAM (~3 minutes of samples in memory) and uses a Micro SD-card as permanent storage.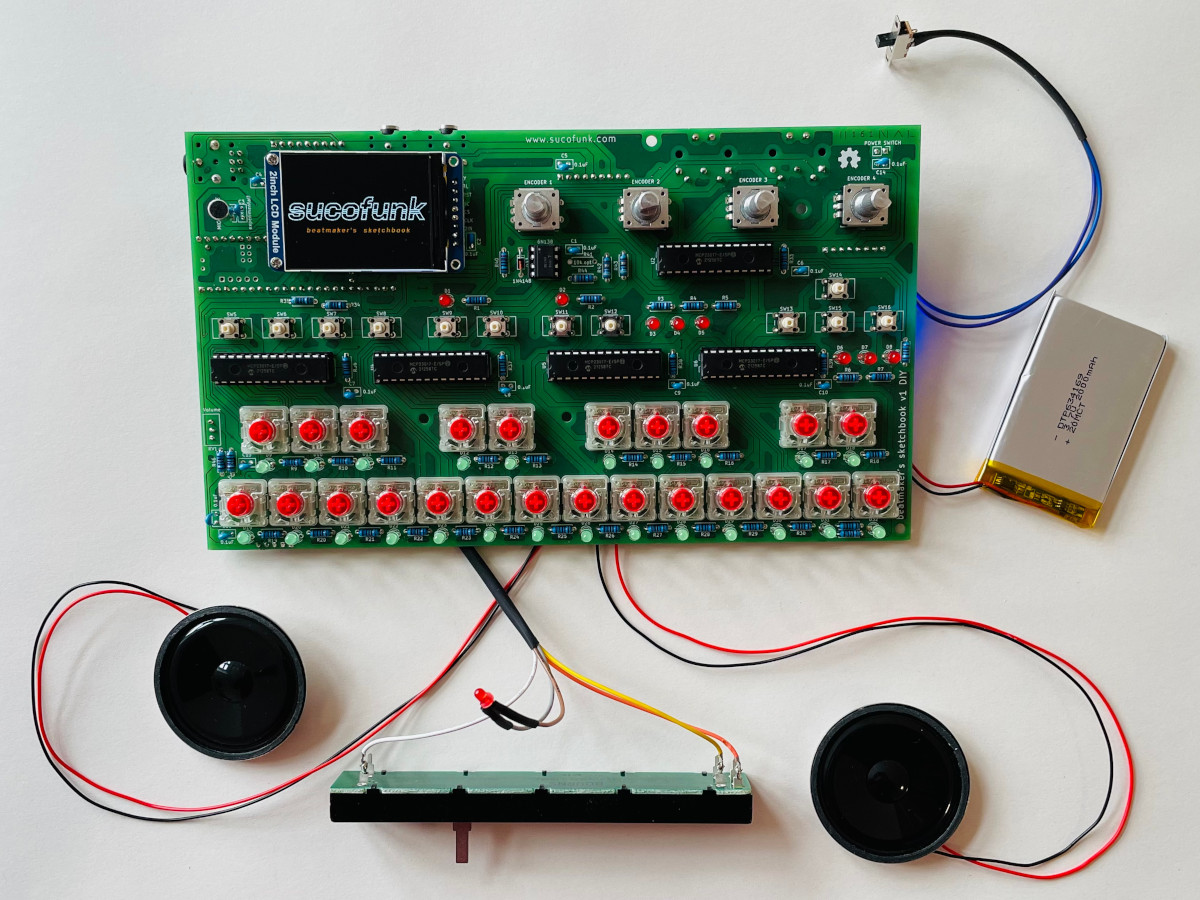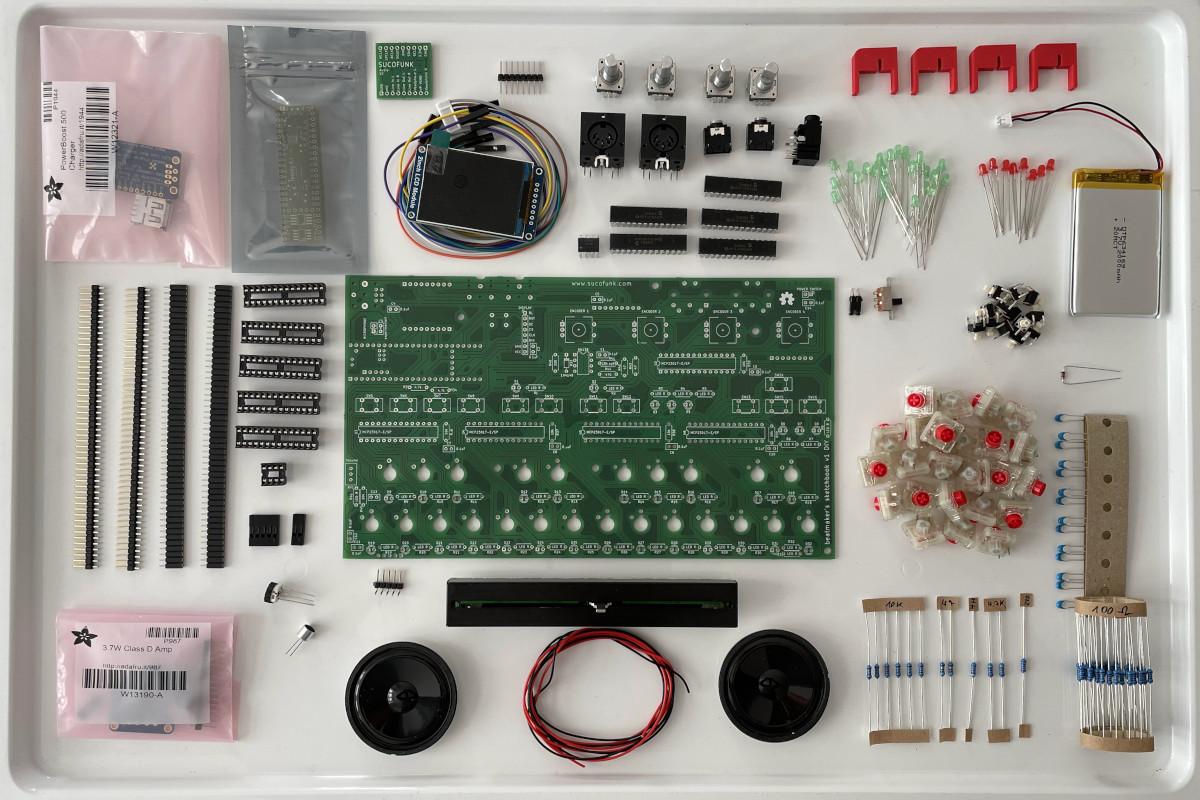 DIY kits
Depending on your skills it will take 3-6 hours to solder everything together. A fun weekend project and probably more useful than putting 10.000 small plastic bricks together ;)
DIY kits are available via the online shop.
Check out these resources: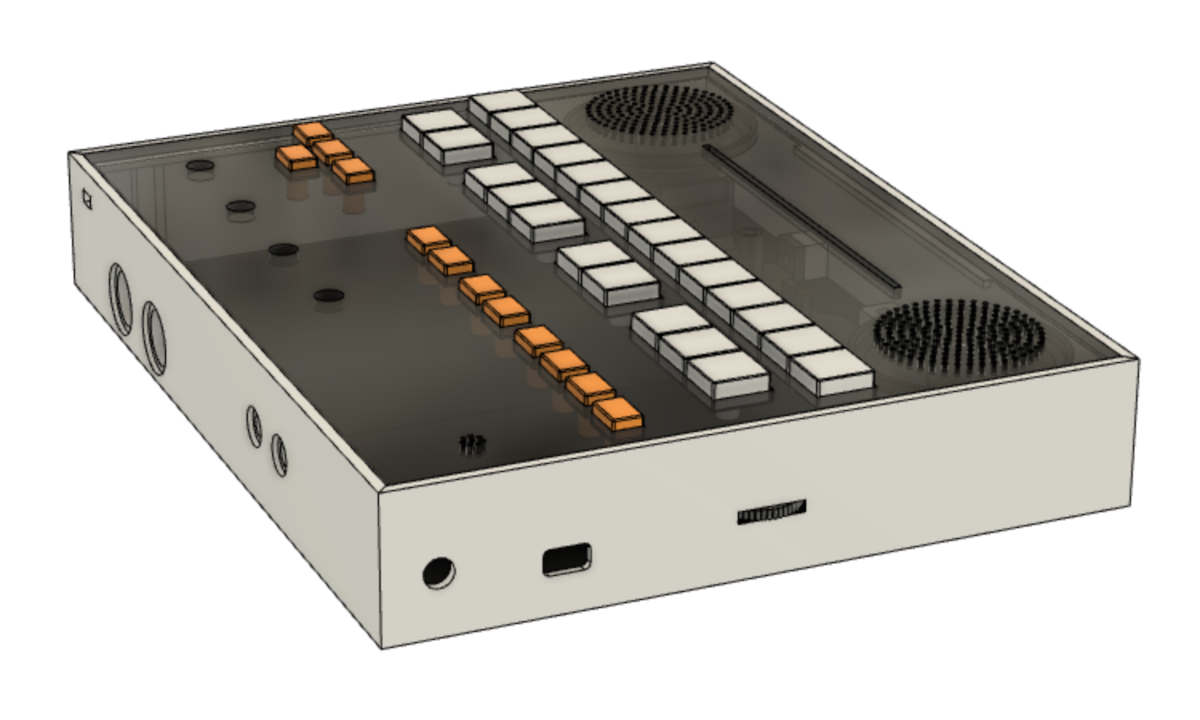 Enclosure
Enclosures and Keycaps can be 3D printed and combined with professional made parts.
There will be wooden enclosure DIY kits in our store soon.
A sampler & sequencer with a microphone and a long lasting rechargeable battery – what else does a beatmaker need for sketching ideas on the go?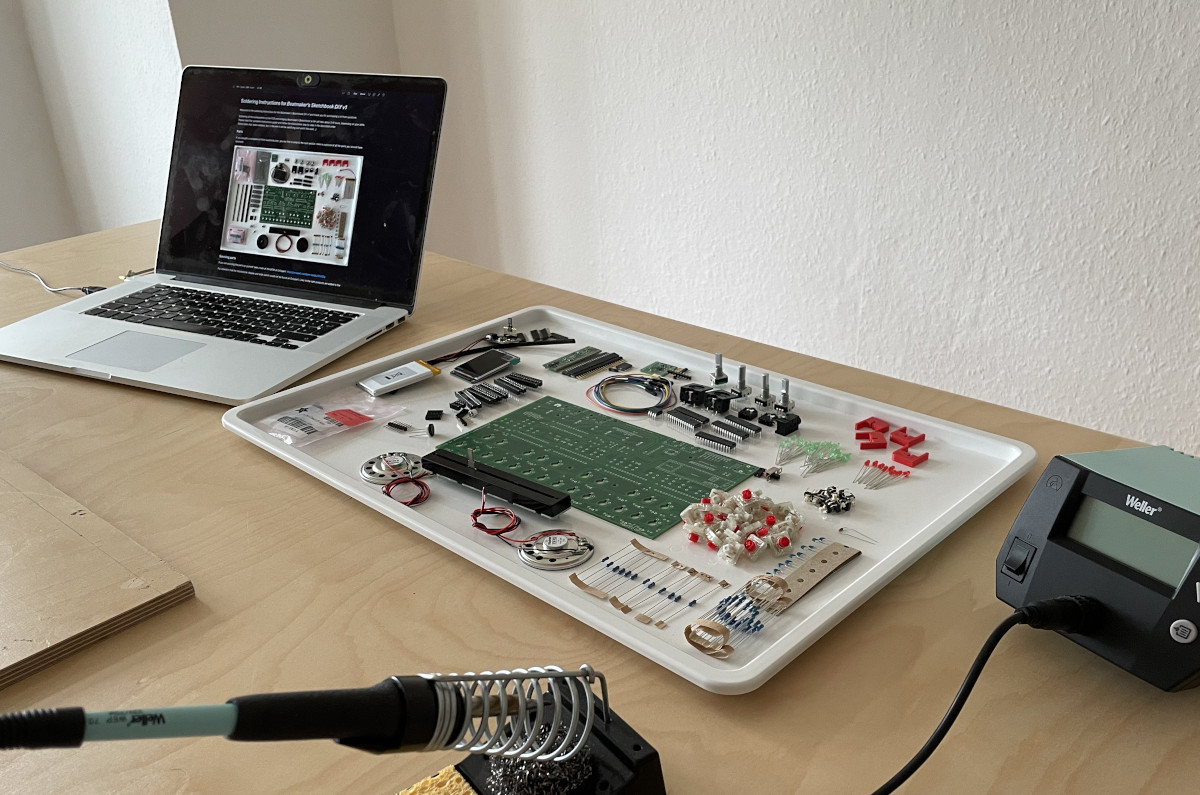 Workshops
If you are interested in a workshop where you and your friends/team/students will build a complete Beatmaker's sketchbook and learn how it is designed and works, feel free to contact us. Workshops will take place in our Berlin based office. Events at your location or school are available upon request.
FAQ`s
Do I need to be a professional in soldering?
admin
2022-02-27T02:59:54+01:00
No. It is designed to need as little soldering skills as possible. Components which would require heavy soldering skills are on separated modules which come pluggable with the kit. Everything is described in a very detailed soldering guide. Check it out and convince yourself.
Sign up for the newsletter